SOLD TOTAL TAKES A HIT BUT TOTAL VOLUME IS STILL ON RECORD BREAKING PACE
Kentucky's housing market followed the national scene in May, with home sales decreasing 6.2 percent for the month compared to a year ago. Even with the decline, total home sales were the second highest ever for the month, reaching 5,057, versus 5,395 in May 2016. Year-to-date, homes sales are down 2 percent with only 410 more homes sold across Kentucky in the first 5 months of 2016 than this year.
"The decline in real estate transactions across the state are a result of the low supply in the first-time buyer and move up markets," said Steve Cline, 2018 president of Kentucky REALTORS®. "Inventory levels in Kentucky are over three percent lower now than they were this time last year and the fact prices are increasing may be keeping buyers on the sidelines until the perfect home hits the market."
Housing inventory through May is down 3.3 percent, reaching 4.34 months compared to 4.49 months in 2016. May's housing stock is flat compared to last year, but the same issues of lack of inventory were still in play in 2016 as they are today.
Homes are moving quickly this year, as days on market continue to decrease, reaching 100 days in May 2018 versus 124 days in May 2016, a decrease of almost 20 percent. For the year, days on market dropped just over 7 percent, reaching 116 days compared to 125 last year.
"With the limited number of homes on the market, buyers who are qualified and ready to buy, are finding a home to purchase and moving quick so they don't miss the chance to own a home," says Cline. "The economy is stable and interest rates are still low. Getting in the market now makes sense because conditions are right for housing as a whole. That may change in the future as prices are rising, but in Kentucky, affordability is still much better than most parts of the country."
In fact, new findings from the National Association of REALTORS® (NAR) show that 75 percent of the U.S. population believe that now is a good time to sell a house, while 68 percent think it is a good time to buy. According to NAR's second quarter Housing Opportunities and Market Experience (HOME) survey, a majority of consumers believe prices have and will continue to increase and that homeownership strengthens our nation's communities.
NAR Chief Economist Lawrence Yun, in response to the survey that inventory remains the driving force in real estate, affecting everything for rising prices to household formation. He continued by saying that improving supply conditions is critical to improving buyer optimism and helping to remove some of the barriers holding back potential first-time buyers. One encouraging sign has been the increase in new home construction to a 10-year high, which may help would-be buyers find a home.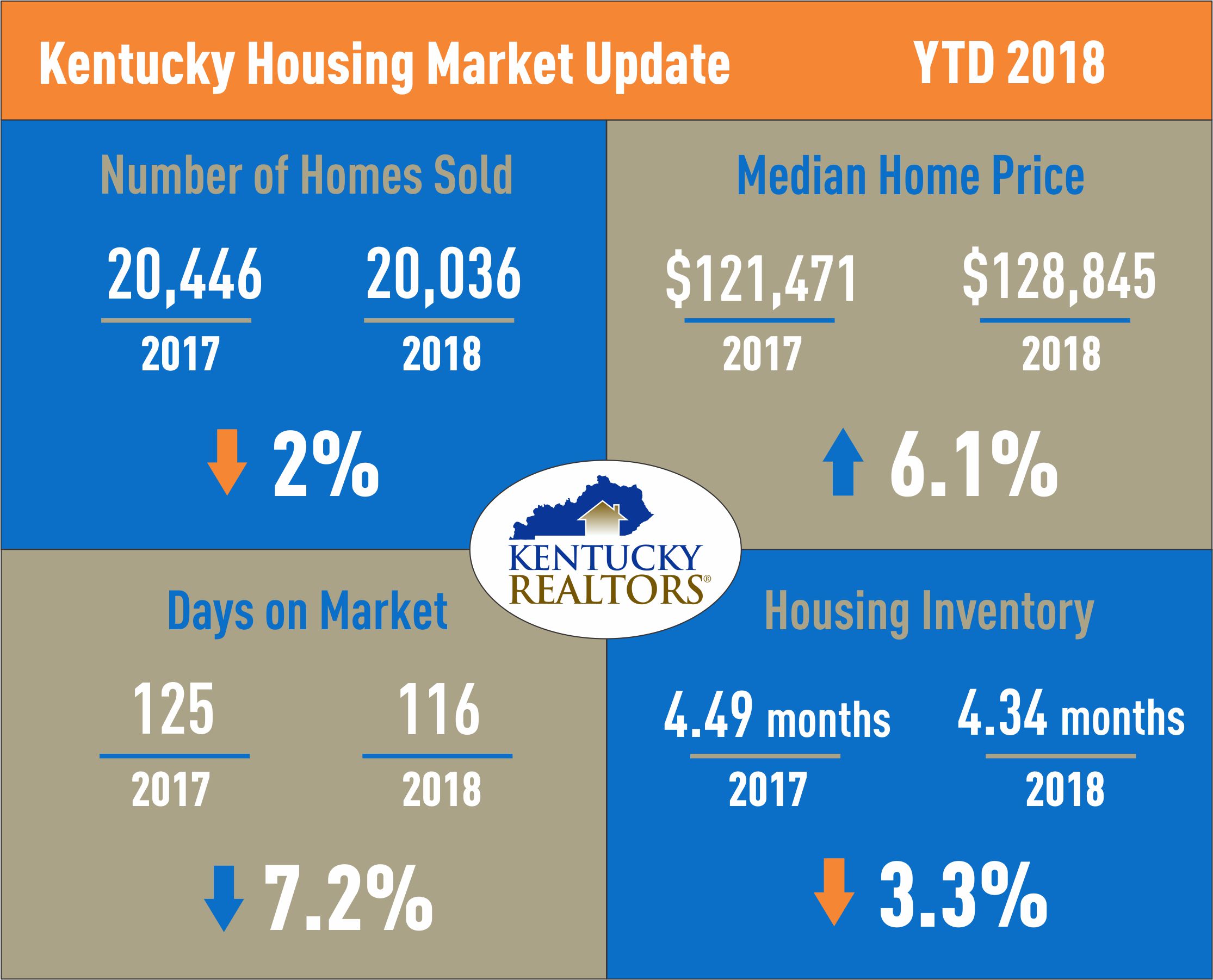 Home prices in Kentucky continued to rise in May, reaching a median of $133,856, up 2.5 percent from May 2016 when prices were $130,569. For the year, Kentucky's median was up just over 6 percent to $128,845 versus the 2016 median of $121,471. The in-state median for May was the fifth highest month ever recorded and the highest ever for May. Nationally, the median home price topped $264,000, an all-time high and up almost 5 percent from May 2017 when it reached just over $252,000.
"Across the country, it is being predicted that home sales may fall less than half of a percent, with prices gaining around 5 percent for the year," said Cline. "In Kentucky, we may see a similar trend which would make 2018 the second-best year on record for home sales and the highest for prices. If we continue to have a vibrant economy, real estate should remain strong."
Kentucky REALTORS® is one of the largest and most influential associations in Kentucky. Founded in 1922, Kentucky REALTORS® represents more than 11,000 REALTORS® who are involved in all aspects of real estate, including residential and commercial real estate brokers, sales agents, developers, builders, property managers, office managers, appraisers and auctioneers.
To view housing statistics for the state, as reported to Kentucky REALTORS®, visit housingstats.kyrealtors.com.