NAR's Code of Ethics, adopted in 1913, was one of the first codifications of ethical duties adopted by any business group. The Code ensures that consumers are served by requiring REALTORS® to cooperate with each other in furthering clients' best interests.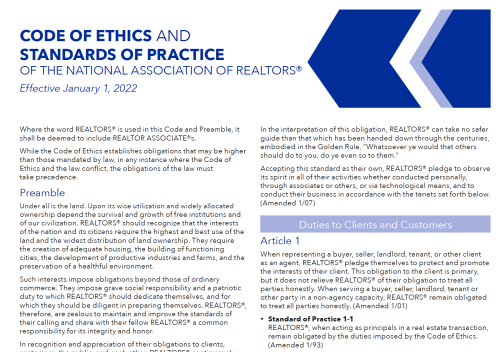 Additional Resources
Ethics Training Courses
The Code of Ethics deadline for this cycle is December 31, 2024.
NAR's Board of Directors approved a change to the Code of Ethics training requirement, extending it from every two years to every three years. This extends the current cycle deadline from March 1, 2022, to Dec. 31, 2024.
REALTORS® are required to complete ethics training of not less than 2 hours, 30 minutes of instructional time. The training must meet specific learning objectives and criteria established by the National Association of REALTORS®.
Training may be completed through NAR's online courses or through another method, such as online or classroom courses via local/state associations. Read the consequences for failing to complete Code of Ethics training.
Here are a few options offered by KRI to satisfy the requirement and more may be added:
Online:
Everyday Ethics (counts as 3 hours elective & 3 hours law CE)
Professional Standards for Real Estate Practice (counts as 3 hours elective CE)
Classroom:
GRI 100: Ethics & Law (counts as 3 hours elective & 3 hours law CE)
NAR – Quigler App
NAR has licensed the code of ethics to Quigler for "educational purposes." Quigler, in turn, has created for REALTORS® a new app that makes it easier to learn the Code and insert it into their daily transaction process. It is available to all REALTORS® free of charge at www.Quigler.com/NARCODE.
Quigler tells the agent what the Code requires at each "Step" of a buy/sell transaction by extracting from the Code those actions applicable to the transaction. It then organizes those required actions into a sequential series of Steps, from "Pre-Listing Activities" to "Accepted Offer/Contract" (nine in all), with the required Actions under each Step as a checklist. Each action is a simple "yes" or "no" question (i.e., Did you do this? Did you do that?).
When an agent does what the Code requires, the agent checks a box and can have Quigler send an automated notification to the agent's client, creating a running written record of what the agent has done to comply with the Code, all time-stamped and dated.
A video presentation created especially for KYR by Quigler CEO, David Michonski can be viewed here.