Known for giving back to the communities in which they work and live, REALTORS® care about their neighbors. In this spirit, Kentucky REALTORS® (KYR) is making $1.5 million available to Kentuckians who have been affected or displaced by the recent tornado outbreak.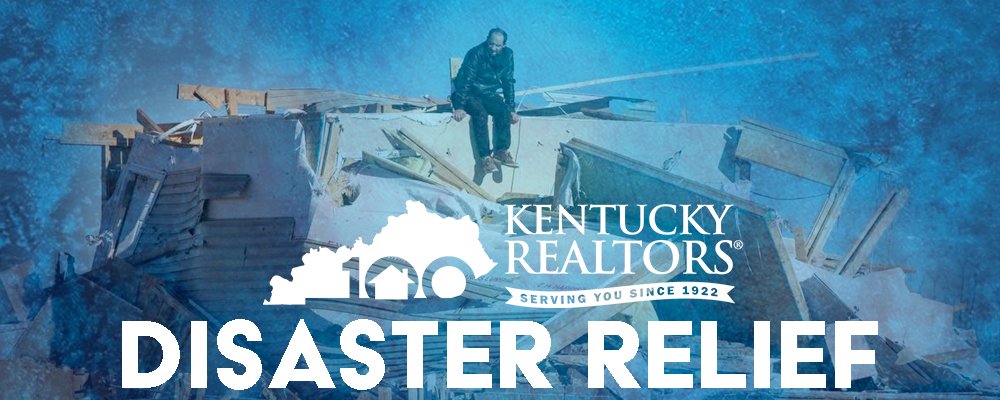 Parts of our state have been ravaged by multiple tornadoes that cut a path more than 100 miles long through 18 of Kentucky's counties. Unfortunately, many communities no longer exist, are unrecognizable, and will be forever changed because of these powerful storms. Thousands of Kentuckians are homeless and/or without their jobs or businesses. The assistance provided through the support of the REALTOR® Relief Fund, a program of the National Association of REALTORS®, can help ease the tremendous hardship, worry, and challenges of many by offsetting the costs of the basic need of housing.
KYR President Charles Hinckley says this program is a first step in assisting Kentuckians affected by the storms. "This is just the beginning of plans to make a lasting impact in the lives of our neighbors", he said. "While a priority is to make housing funds available, our wider approach will also include organizing manpower over the weeks and months ahead and helping to collect physical and monetary donations".
To ensure that as many Kentuckians as possible receive the aid they need from this program, the maximum amount available per application is $3,000. Those interested in applying should visit kyrealtors.com/relief for more details and download an application.
Marshall County Commissioner (District 3) Monti Collins is excited about the aid that his constituents can apply to receive. "As a REALTOR® and elected official that represents a small community, I know a lot of the strained faces that remain under the weight of this disaster", he said. "I'm hopeful knowing that these funds will help give them one less thing to worry about as they work to rebuild their homes and lives."
This is the second consecutive year that Kentucky REALTORS® has made funds available to residents of the Commonwealth. In spring 2020, as the coronavirus pandemic began to grip the nation, Kentucky REALTORS® assisted families in southeastern Kentucky who were affected by rising waters. More recently, $17,000 was distributed to applicants in Carlisle who fell victim to flash-flooding.