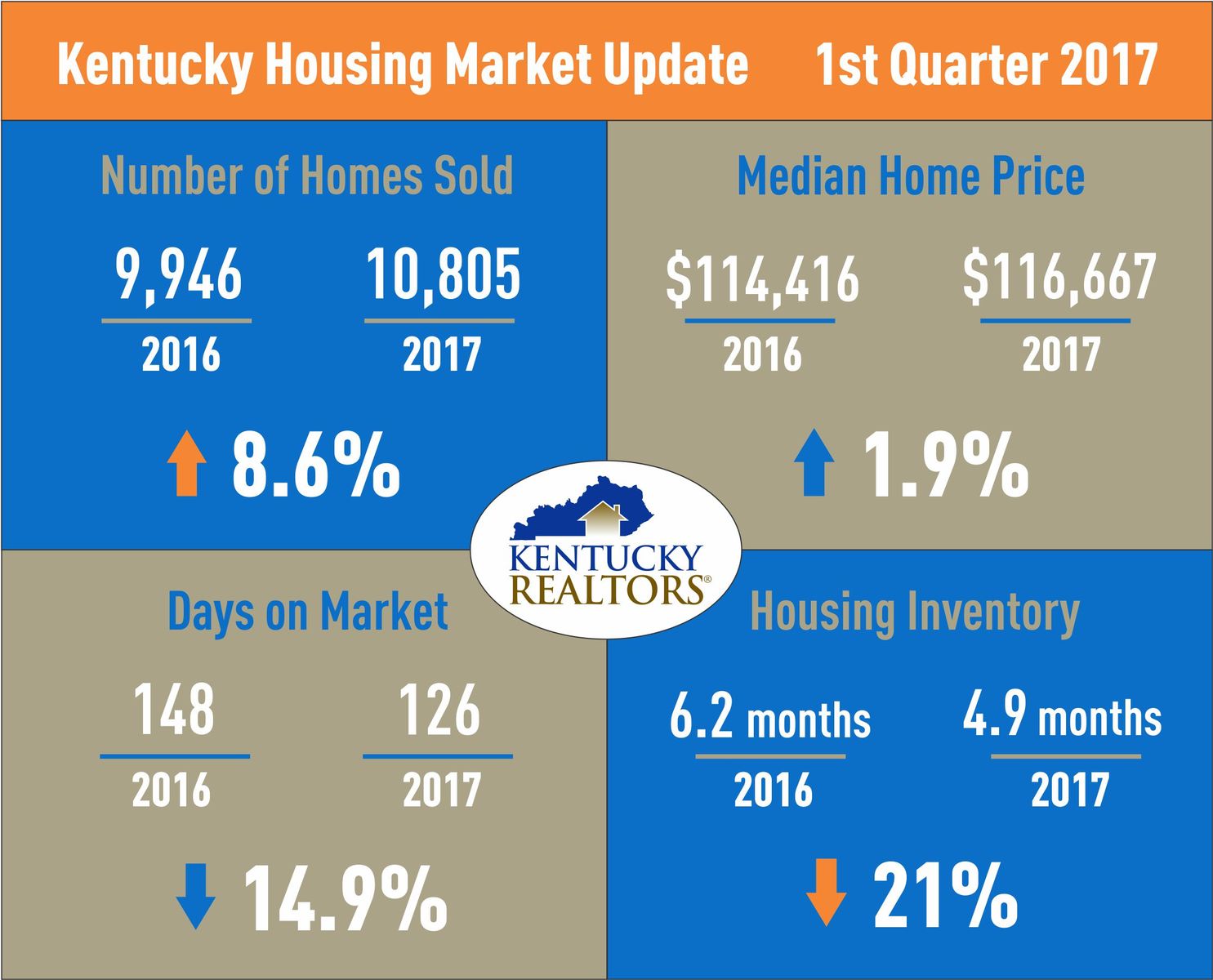 March saw a slight decline in prices
Overcoming a few dips in the first three months of the year, the Kentucky real estate market finished the first quarter on the up-swing. Total home sales rose 8.6 percent, from 9,946 in 2016 to 10,805 in 2017, during the first quarter of the year. The increase comes at a time when the time it takes for a property to sell dropped 22 days, or almost 15 percent, from the same period last year. Housing inventory also declined 21 percent ending at 4.9 months of supply.
"Home shoppers are out in the market and buyer demand is heating up this spring season," said Mike Becker, president of Kentucky REALTORS®. "We are seeing more competition for the inventory available which may explain the bump in home prices."
The state's median home price rose 1.9 percent for the quarter, jumping to $116,667 from $114,416. This increase still puts Kentucky's prices at a level much lower than the national average of $232,100.
In March, the total number of homes sold rose 12.8 percent compared to March 2016. Median prices took a slight hit, dropping 1.4 percent to $118,850.
As the spring housing market usually signals an uptick in activity, March also saw inventory levels hit 4 months of supply while days on market dropped to 124 days, from 146 this time last year.
"Qualified buyers need to enter the market with a strong game plan – a budget defined, financing in place, desired neighborhoods selected – and then be ready to make a decision when they find a home that meets their needs," stated Becker. "Competitively priced homes are being snapped up in a matter of days, especially those in price ranges that capture starter homes and the first-time home buyer market, which varies depending on what part of the state you are in."
At the national level, the first quarter saw home sales at its strongest in a decade and prices that have experienced monthly increases for 61 consecutive months.
According to Lawrence Yun, the National Association of REALTORS® chief economist, continual supply shortages ignited faster price appreciation across the country in the first quarter. He said that an increased buyer presence led to a boost in sales while new listings failed to keep up and hovered around record lows all quarter.
But that may change as interest rates have, so far, remained low throughout the year and home building is starting to ramp up across the state. Nationally, new home starts have been on the increase for several consecutive years and the National Association of Home Builders chief economist Robert Dietz has forecasted a 9-10 percent gain in new housing starts in 2017 and 2018.
"The newest Housing Opportunity Index reports that housing affordability improved in the first quarter of 2017 due, in large part, to rising wages and better economy," stated Becker. "The housing market may stay busy for a while, especially when the biggest home buying demographic, the Millennials, are ramped up – over 94 percent of that generation wants to own their own home."
Kentucky REALTORS® is one of the largest and most influential associations in Kentucky. Founded in 1922, Kentucky REALTORS® represents more than 10,300 REALTORS® who are involved in all aspects of real estate, including residential and commercial real estate brokers, sales agents, developers, builders, property managers, office managers, appraisers and auctioneers.
To view housing statistics for the state, as reported to Kentucky REALTORS®, visit housingstats.kyrealtors.com.