It was only two years ago (2019) that the sales volume figure for the year for Kentucky residential sales topped the ten-billion-dollar mark. It was a milestone that was the result of a booming economy and record low unemployment rates. This caused more homes to sell but the median price did not increase sharply. The pandemic ushered in a time when home prices soared quickly. This, coupled with record sales counts, meant that sales volume would hit record highs more quickly than ever. For example, 2021 only needed the first three fiscal quarters to top that ten-billion-dollar level. Year-to-date sales volume through September reached $10.74 billion (up 20% over 2020).
Closed sales were down slightly to 5,163 from Sept. 2021 (5,199). Pending sales in Sept. were down almost 14% over last year, signaling a continued slowing of the frenzied market pace of the spring and early summer. "We anticipate a steady pace of listings coming to the market", said Charles Hinckley, President of Kentucky REALTORS®. "A number of factors are pointing to more choices being available to those that are ready to purchase property."
Nationally, total existing-home sales, completed transactions that include single-family homes, townhomes, condominiums and co-ops, rose 7.0% from August to a seasonally adjusted annual rate of 6.29 million in September. However, sales decreased 2.3% from a year ago (6.44 million in September 2020).
"Some improvement in supply during prior months helped nudge up sales in September," said Lawrence Yun, NAR's chief economist. "Housing demand remains strong as buyers likely want to secure a home before mortgage rates increase even further next year."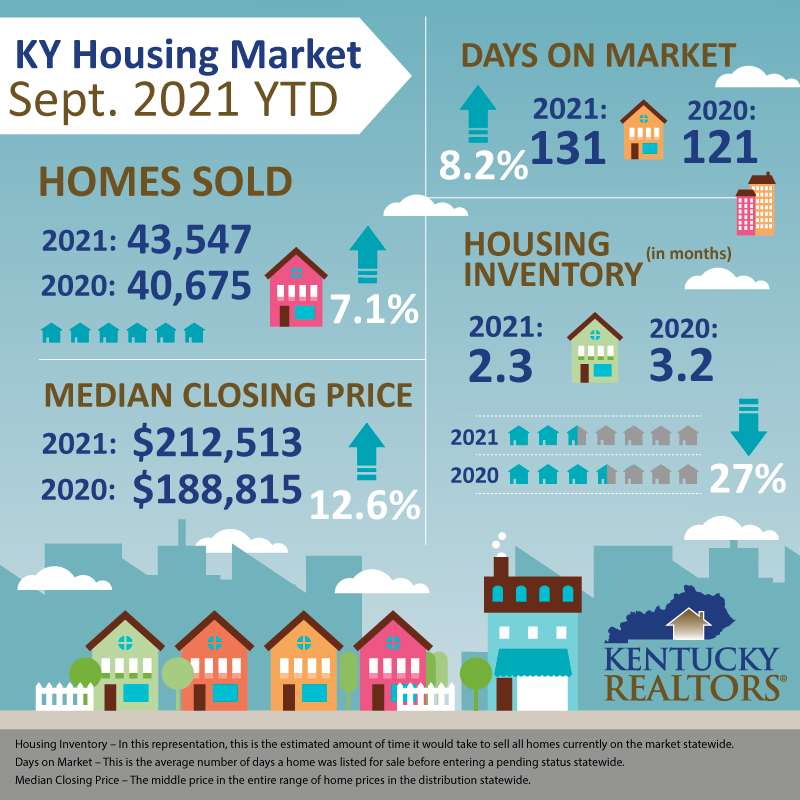 The median sale price of homes in Kentucky remained steady at $200,000, which is up by eleven percent over last year. "Prices are finally leveling off", said Kentucky REALTORS® C.E.O. Steve Stevens. "We will continue to advocate, for policies and programs that encourage more new home construction to help ease the strain on inventory."
Housing inventory continues to hold at 2.3 months in Kentucky, while the nationwide average sat at 2.4 months in September. Experts agree that a stable housing market contains about 6 months of inventory.
Distressed sales in September remained low at only 8 units. This indicates that programs put in place, such as mortgage forbearance, were effective in keeping Kentuckians in their homes. This could change soon, however, as programs will begin to expire. It remains to be seen how many new listings will be created if owners that were adversely affected by the pandemic can't afford their current mortgage.