Kentucky home sales in September slid compared to 2017, topping out at 4,453 units. This is down 3.4 percent from last year's September tally of 4,608. For the year, home sales are trailing 2017 by just over 1 percent, with 40,291 transactions through September (40,816 sales were recorded in the same period for 2017).
Nationally, home sales rose slightly in September and saw substantial increases in both the West and Midwest, according to the National Association of Realtors®. A forward-looking indicator based on contract signings, increased 0.5 percent to 104.6 in September from 104.1 in August. However, year-over-year, contract signings dropped 1.0 percent making this the ninth straight month of annual decreases.
Lawrence Yun, NAR chief economist says that even though we are still seeing year-over-year declines, the latest monthly increase is a good, stabilizing trend. "This shows that buyers are out there on the sidelines, waiting to jump in once more inventory becomes available and the price is right," he said.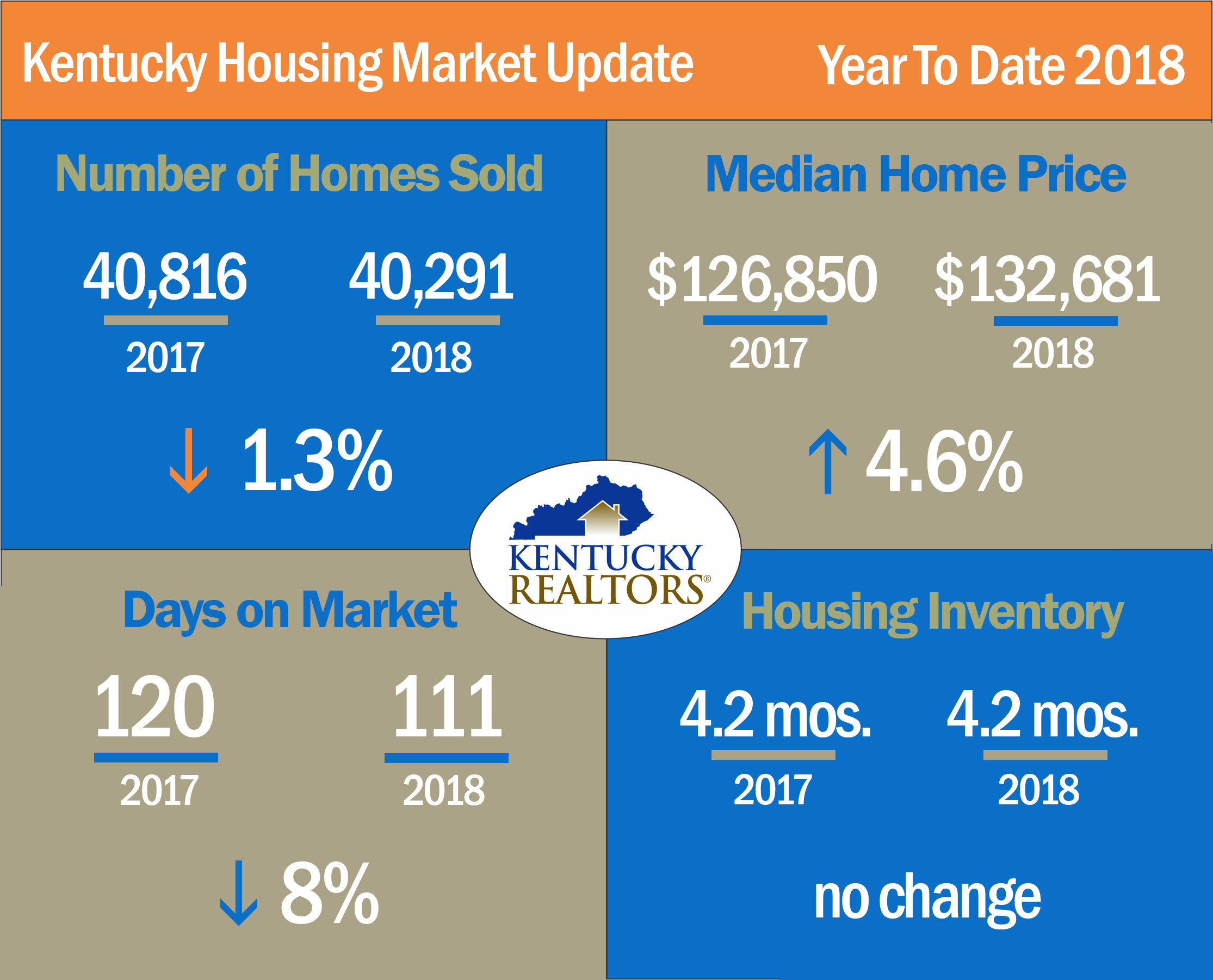 "The Kentucky housing market continues to buck the national trend," said Steve Cline, president of Kentucky REALTORS®. "Closings are down slightly while national numbers are up. However, Kentucky saw increases in July and August while others did not. While it remains difficult to predict the short-term future, the stabilizing national trend is encouragement that 2018 will be a near-record year in Kentucky."
Home prices in Kentucky were up for the second straight month in September. A nearly five and a half percent jump to a median price of $136,920 was a marked change from $126,850 in 2017. Nationally, median home prices landed at $258,100, once again roughly doubling the Kentucky median price.
Kentucky's housing inventory dipped only slightly in September year-over-year. The 4.42 months of supply in September was up less than half a percent versus September 2017 and was a significant increase of August 2018's level of 3.56 months. For the year, inventory remains unchanged versus the same period in 2017, showing 4.2 months through September.
September saw only a 5.7 percent increase in the amount of time properties stayed on the market. At 110 days, this is level matches the average for days on the market in Kentucky.
Median prices were up in Louisville but remained almost unchanged in Lexington and Northern Kentucky.
With rising mortgage rates and high prices, conversations about the possible benefits of renting over buying have begun to pop up; however, Yun believes that homeownership is still the path to long-term financial health. "Excluding periods of subprime lending, homeownership has consistently led to wealth gains," said Yun. "If people are willing to purchase a home within their budget, they will likely continue to accumulate equity."