May sees increase in sales, slight drop in price
Real estate sales in Kentucky continue to exceed the totals seen through this time in 2016. Total home sales in May increased 8.6 percent, from 4,963 in 2016 to 5,391 in 2017, the first time sales have pushed over 5,000 in May. Housing inventory in May reached an all-time low at 3.5 months, down 14.6 percent from May of 2016.
"The fact that inventory remains so low and sales continue to grow shows a very active real estate market," said Mike Becker, president of Kentucky REALTORS®. "Buyers who are in the market need to move quickly if they find a property they want to move on. Available inventory is in tight supply."
In fact, days on market decreased to 123 days, down 7.5 percent from the 133 days last May. Near historic lows, the homes on the market aren't staying around as long, mainly due to the decrease in the current housing stock in many areas of the state. Nationally, properties typically stayed on the market for 27 days in May, which is down from 29 days in April and 32 days in May last year. This is the shortest timeframe since tracking began nationally in May 2011.
But news may be good for buyers moving forward as an increased share of homeowners believe now is a good time to sell their home. This quarter, according to NAR's quarterly Housing Opportunities and Market Experience (HOME) survey, 71 percent of homeowners think now is a good time to sell, which is up from last quarter (69 percent) and considerably more than a year ago (61 percent). Lawrence Yun, NAR chief economist, said of the findings, "Perhaps this notable uptick in seller confidence will translate to more added inventory later this year."
The state's median home price dropped slightly in May, less than one percent, from $131,636 in 2016 to $130,583 in 2017. This is a departure from what rest of the country saw in May as the national median price hit a new peak at $252,800.
"A slight drop in price for the month seems to be normal considering the state of the market," stated Becker. "More activity on homes available in the lower price ranges will eventually bring down the median home price. Total sales volume for May, however, was just north of one billion dollars for the state, which was a record for the month."
Yun says sales activity expanded in May as more buyers overcame the increasingly challenging market conditions prevalent in many areas. He reiterated that the job market in most of the country continues to be healthy and mortgage rates remain favorable to buyers that qualify. He continued by saying those able to close on a home last month are probably feeling both happy and relieved. Listings in the affordable price range are scarce and homes are coming off the market at an extremely fast pace.
But he also states that monthly closings have recently been oscillating back and forth, but this third consecutive monthly decline in contract activity implies a possible topping off in sales. Buyer interest is solid, but there is just not enough supply to satisfy demand and prospective buyers are being sidelined by limited choices. Within the state, home sales have fluctuated monthly over 2017, with declines in two of the five months (February and April) so far this year.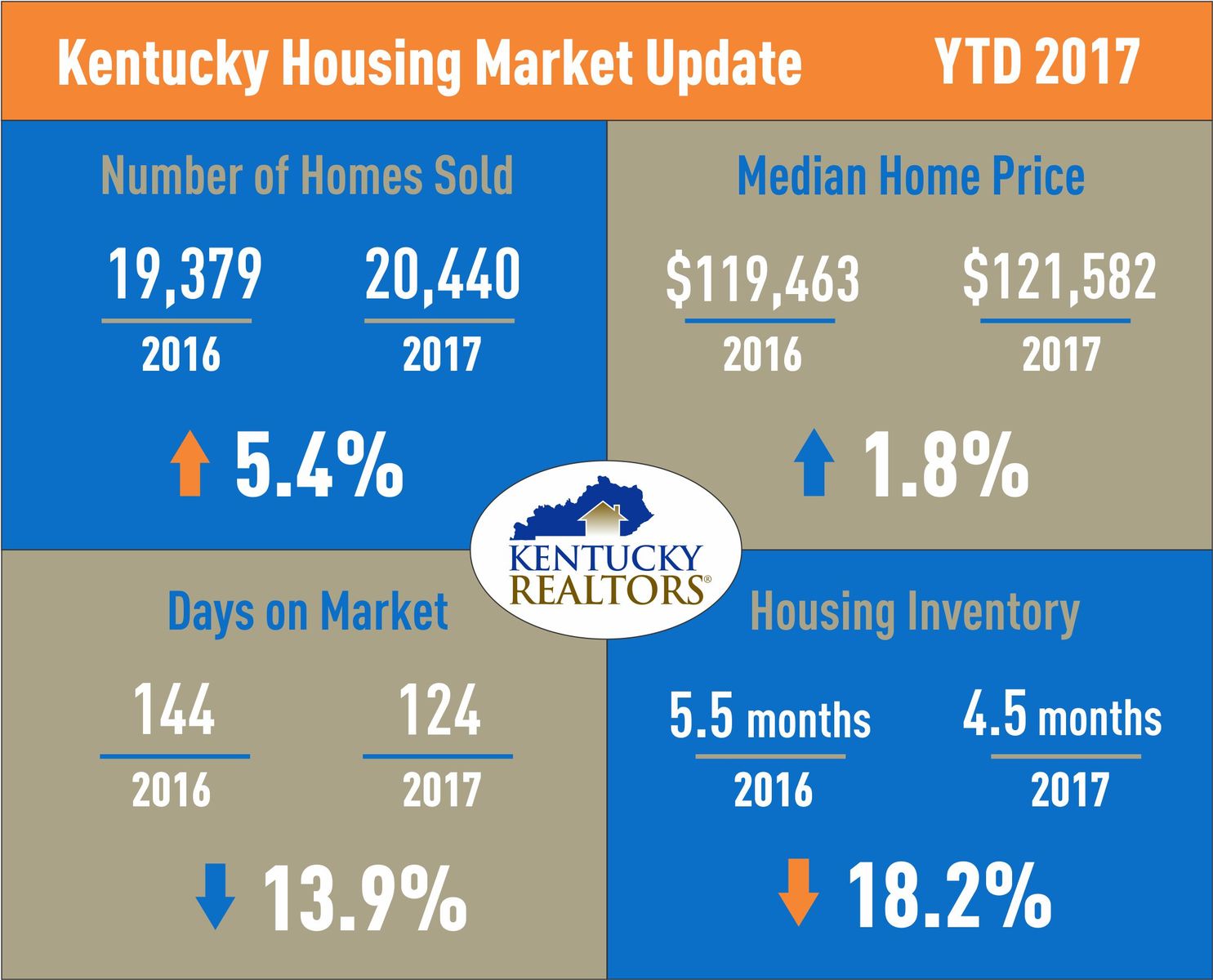 Year to date, however, home sales in Kentucky are still up over last year by 5.4 percent, with 20,438 homes sold in 2017 versus 19,379 in 2016. Median prices to date have remained solid at $121,577 in 2017, an increase of 1.7 percent over the $119,463 in 2016.
Kentucky REALTORS® is one of the largest and most influential associations in Kentucky. Founded in 1922, Kentucky REALTORS® represents more than 10,400 REALTORS® who are involved in all aspects of real estate, including residential and commercial real estate brokers, sales agents, developers, builders, property managers, office managers, appraisers and auctioneers.
To view housing statistics for the state, as reported to Kentucky REALTORS®, visit housingstats.kyrealtors.com.