Kentucky saw home sales decrease in September, but remained positive for the first nine months of the year. Total home sales in September were down 4.6 percent, reaching 4,602 in 2017 versus 4,823 in 2016. For the quarter, homes sold hit 14,860 this year, slightly above the 14,777 sold in 2016. Year-to-date, home sales are still on a record breaking pace with a 3.1 percent increase, with 40,809 homes sold in 2017 versus 39,563 in 2016.
Housing inventories across the state jumped in September by 4.8 percent from the previous year, but for the quarter and year-to-date, inventories are still down 7 percent and 14.3 percent respectively, compared to 2016.
"Demand exceeds supply in most markets, which is keeping price growth high and essentially eliminating any savings buyers would realize from the decline in mortgage rates from earlier this year," says Lawrence Yun, NAR's chief economist. "While most of the country, except for the South, did see minor gains in contract signings last month, activity is falling further behind last year's pace because new listings aren't keeping up with what's being sold."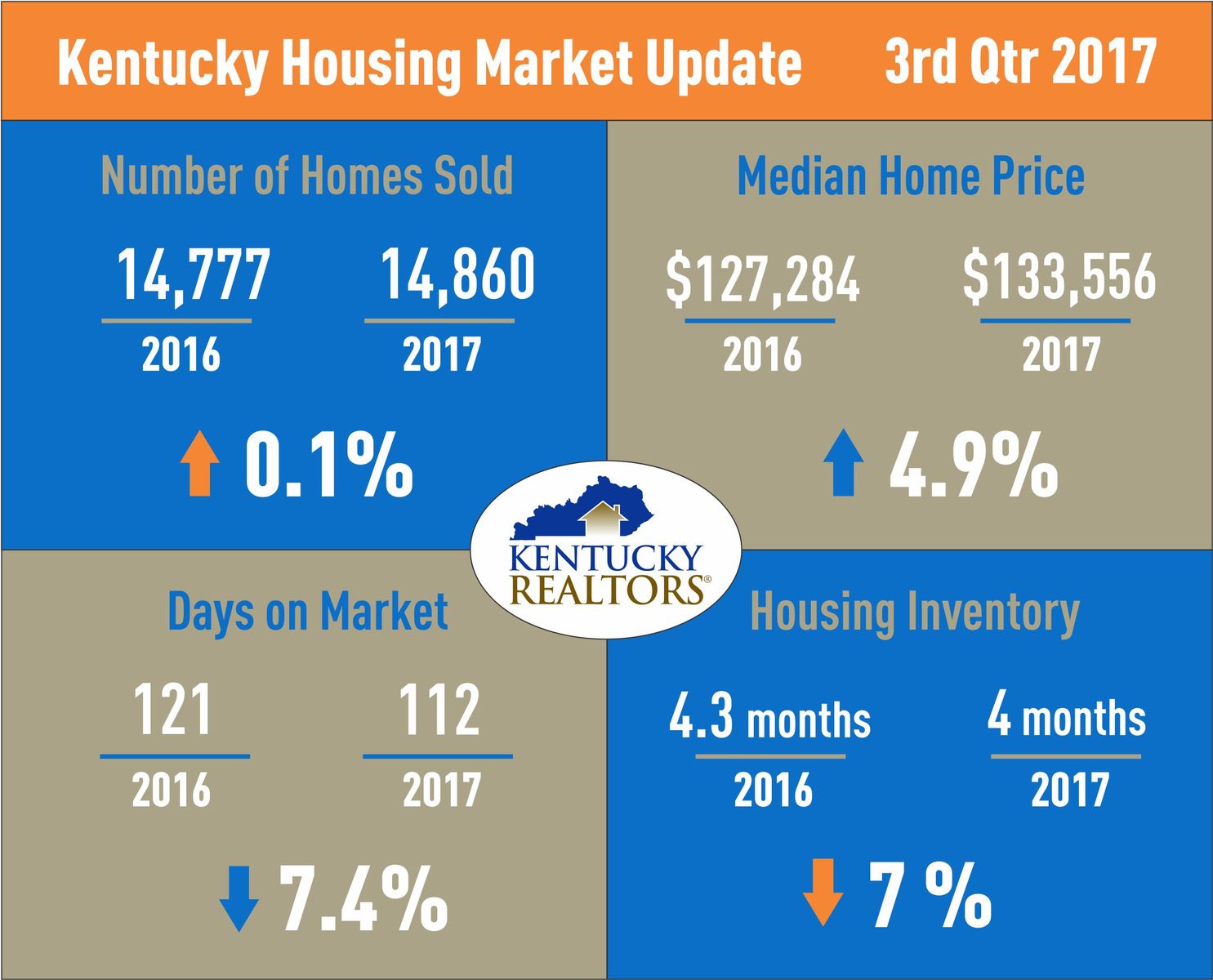 Not only is inventory an issue in many parts of the state, homes are selling faster than last year as well. For September, days on market dropped from 120 days in 2016 to 108 days in 2017, a decrease of 10 percent. For the year, days on market went from 134 days in 2016 to 120 in 2017, a drop of 10.4 percent.
"Even though the number of properties sold dipped in September, buyers are still on the hunt to find a home," said Mike Becker, president of Kentucky REALTORS®. "As we move into the colder months, sellers who are serious about putting their homes on the market are encouraged to do so, as buyers will be searching due to pent up demand throughout the year and inventories naturally decline at this time of year. This could prove to be a good time to sell with serious buyers ready to purchase in the market."
The median home price increased to a new monthly high for September, reaching $129,933, an increase of 2 percent from a year earlier. The median price for the year hit $126,902 from $122,967 for the same period in 2016. For the quarter, the median price rose 4.9 percent to $133,556. The total volume of all home sales reached $885 million in September and over $7.5 billion for the first three quarters of the year, an increase of 8.2 percent.
On the national front, home sales declined in September, compared to the same month last year by 1.5 percent, but rose less than a percent over the previous month (August), giving September the second slowest sales pace over the past year.
"We are hearing from others in the industry that the primary obstacles to sales growth are the same as we have known all year: not enough listings, especially at the lower end where first-time homebuyers typically come into the market, and prices that continue to rise which may prohibit some buyers from getting into the market even though affordability in Kentucky is well below most parts of the country," stated Becker.
Kentucky REALTORS® is one of the largest and most influential associations in Kentucky. Founded in 1922, Kentucky REALTORS® represents more than 10,800 REALTORS® who are involved in all aspects of real estate, including residential and commercial real estate brokers, sales agents, developers, builders, property managers, office managers, appraisers and auctioneers.

To view housing statistics for the state, as reported to Kentucky REALTORS®, visit housingstats.kyrealtors.com.