Home sales were up for the fourth consecutive month in September. The market continued its high-performance recovery, reaching 5,202 units. This was up 16% over September 2019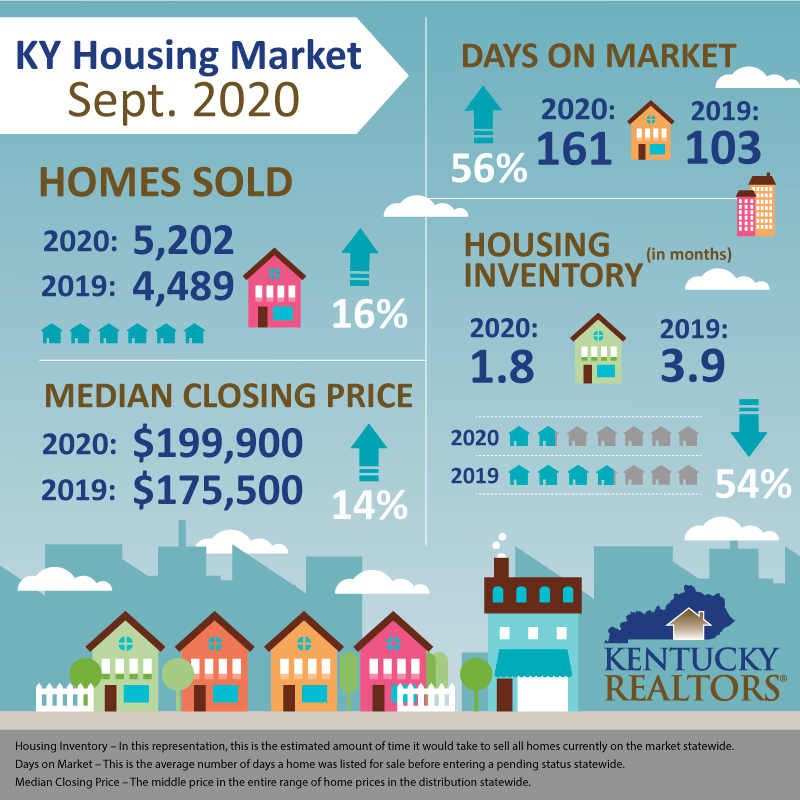 (4,489). Year-to-date sales are once again in record territory as they now stand at 41,083 up over 6% from last year's mark.
Total existing-home sales, completed transactions that include single-family homes, townhomes, condominiums and co-ops, rose 9.4% from August to a seasonally adjusted annual rate of 6.54 million in September. Overall sales rose year-over-year, up 20.9% from a year ago (5.41 million in September 2019).
"Home sales traditionally taper off toward the end of the year, but in September they surged beyond what we normally see during this season," said Lawrence Yun, NAR's chief economist. "I would attribute this jump to record-low interest rates and an abundance of buyers in the marketplace, including buyers of vacation homes given the greater flexibility to work from home."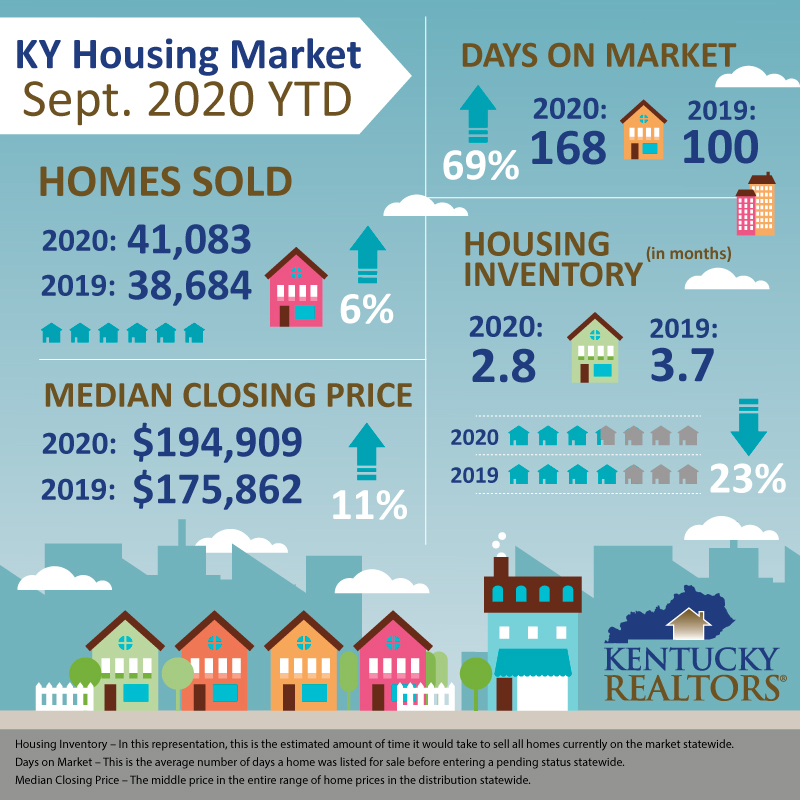 The median sale price of homes in Kentucky dipped only slightly from last month, holding at $199,000. This is up from $175,000 in September 2019. The statewide average home price was up nearly 15% at $233,836. "These higher home prices continue to be mitigated by record-low interest rates", said Lester T. Sanders, President of Kentucky REALTORS®. "However, I'm afraid we may be at the ceiling for that relief. Those that are able to borrow are definitely going to encounter a market with higher prices and more competition. Furthermore, diminishing housing affordability could cause others to encounter a more difficult market to enter."
Sales volume was also up for the third consecutive month. A 33% surge saw that figure top out at $1.22 billion (up from $914 million in September 2019). 2020 Year-to-date sales volume at the end of the third quarter stands at $9.05 billion. Last year's volume through Q3 was $7.9 billion.
The elevated sales activity means the number of homes available on the market remains at critically low levels. At the current pace, it would take just 1.8 months to sell all of the homes on the market right now. September of last year saw that number at 3.9 months. The pending sales figure of 8,672 bears this out as that figure is up 33% over last year's level.
Distressed sales (foreclosures or short sales) were down 77% over last year. Just 21 units sold as distressed, identical to last month's figure.