Join us for four fun-filled and fast-paced days in Bowling Green!
Monday, June 27 - Thursday, June 30
Summer Retreat Registration is now closed.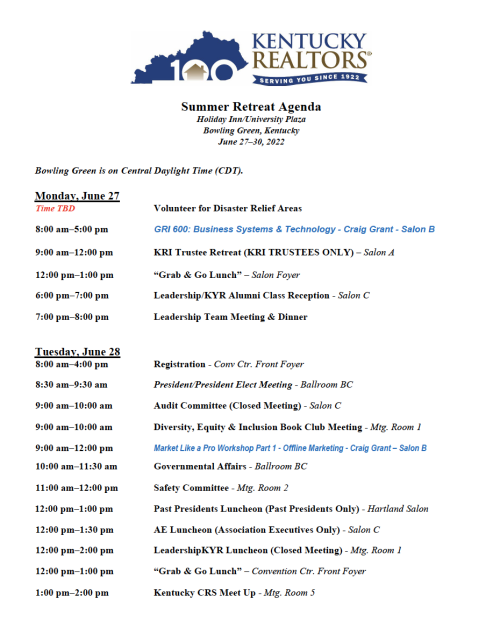 Holiday Inn : University Plaza-Bowling Green 
1021 Wilkinson Trace, Bowling Green, Kentucky 42103


Enjoy the heated indoor pool which is open from 6:00 AM until midnight. Conveniently, the Cross Winds Golf Course, an 18-hole public course is adjacent to the hotel. For any business needs, you have access to their on-site business center. The hotel includes the additional amenities listed below:
Wireless Internet
Pets Allowed
Airport Shuttle
Area Shuttle
Health/Fitness Center
Kids Eat Free
---
Two full days of tech courses with Craig Grant.
Click below for more information and to register to attend a class. 

GRI 600: BUSINESS SYSTEMS & TECHNOLOGY
Today's consumer is very different than that of the past. With the explosion of the Internet, mobile, social media & more, today's consumer has access to everything they want, when they want it and this has led to some major changes in how they act, communicate, make life and business decisions, and more. They have changed the way they consume media and are constantly being overwhelmed with marketing in all aspects of their daily lives. This has changed the role of the REALTORⓇ, the way they interact with consumers, tools they use to properly service them and market their business, and more. At the same time, the real estate industry has become a major target for cyber crimes and digital fraud, plus there are many legal pitfalls and policies from the National Association of REALTORSⓇ (NAR) you could fall prey to which could endanger your business and/or license. In this course, we will explore all of these challenges and more to ensure you work with and market to consumers and run your real estate business and a safe and compliant manner.
MARKET LIKE A PRO WORKSHOP
For a real estate professional to succeed in the marketing world their techniques have to evolve to a modern digital consumer. These sessions will explore how consumers are changing and what marketing techniques & tools you can implement for little or no cost and that require little technical skill or knowledge. And more importantly, each attendee will get hands-on experience using these tools to build out social media posts/headers, videos, online ads & more.
REGISTRATION IS CLOSED, BUT WALK-INS ARE WELCOME FOR AN ADDITIONAL FEE.
 
---
Kentucky REALTORS® is proud to be working with the REALTOR® Relief Fund at the National Association of REALTORS® to make $1.5 million in Disaster Relief Assistance available to residents of Kentucky that were affected by the storms/tornadoes in December 2021. 
Make sure to watch (click here) the newest NAR video on the tornados that devastated our area and how the Disaster Relief grant is going a long way to help our neighbors as they recover, rebuild and return home.

If you are interested in volunteering for Disaster Relief Areas during the Summer Retreat on Monday, June 27th, fill out the form located here. More information will be available soon. 
---
Who is ready for a "Par Tee"?! Dust off your putting skills and join RPAC for a fun and exciting fundraiser! Instead of a regular bottle pull, we've added a little skill to the game! Stop by the RPAC table at the Summer Meeting for more details and to participate.
---
RASK/KYR YPN Welcome Reception
7 PM - 10 PM Monday, June 27th at the Toro Restuarant (2 blocks from Holiday Inn) www.torobg.com
Hors D'oeuvres and drinks will be served and EVERYONE will be given 2 FREE drink tickets! Stop by to start the meeting off right!
---
Be sure to join us for our Taste of Kentucky Centennial Event!
You will not want to miss this exciting centennial event celebrating Kentucky REALTORS 100 Years with Sam McCrary and The Mix Band, the taste of Kentucky buffet and drink tickets included to make it a rockin' night out. You must pre-register to attend at $25 per person.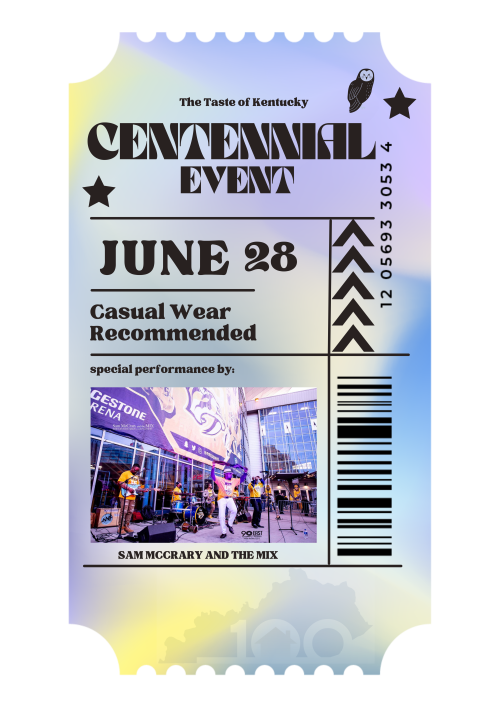 ---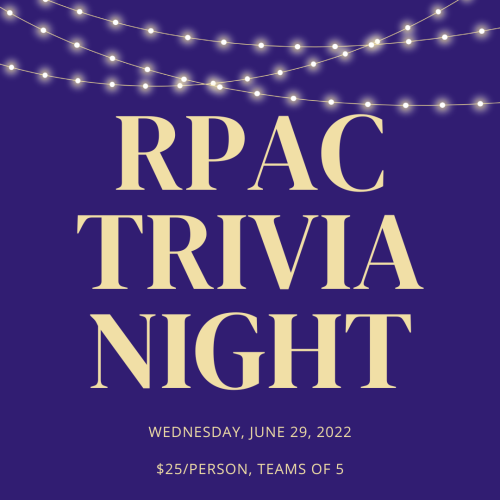 Please join RPAC for Trivia Night on Wednesday, June 29th at 7:30 pm in Ballroom A at the Holiday Inn/University Plaza. For a voluntary contribution of $25 per person (teams of 5), you will compete against your fellow REALTORS® in a "through the decades" themed trivia event. Get your teams together now!
---
Thank you to our sponsor partners!