December 2019 home sales came in at 3,902. December 2020 saw that mark bested by nearly 25% at 4,846. This pushed the year-to-date total sales for 2020 to 56,218. Only once before (last year) had that figure surpassed the 50k mark. The bigger story may be the total sales volume figures. Total home sales volume for 2019 was $10.4 billion. 2020 saw that number swell by an incredible 19% to $12.3 billion.
Click here for the complete Kentucky Housing Market Report for December 2020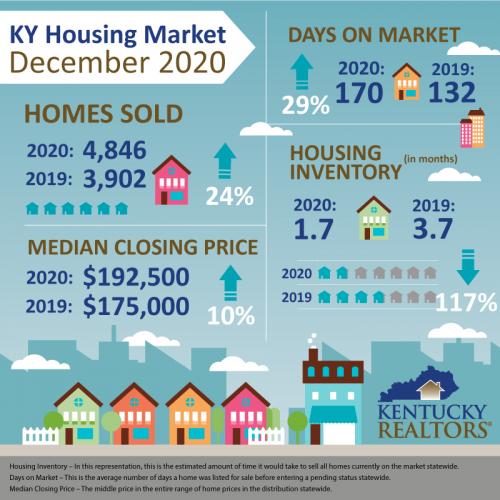 ---
Kentucky metro area house prices are forecasted to outperform the national market over the next twelve months. Currently, the market is tracking the overall U.S. market. Compared to 12-months ago, Kentucky's housing market has strengthened. Current local economic conditions support an estimated 5.6% increase in house prices over the next twelve months. Based on the housing market vitality of the nine metro housing markets which comprise it, Kentucky's housing market ranks twentieth amongst all states and D.C. The three-month outlook is neutral.
Click here to view the entire Housing Market Vitality Report
---

Thirty-eight percent of the respondents said individual rental property owners were preferring to sell. "The impact of the eviction moratorium on landlords, especially the mom & pop rental property owners who are left with ever-increasing amounts of unpaid rent and no relief on expenses, is a challenge that we continue to highlight in conversations concerning rent relief," said KYR CEO, Steve Stevens.
Survey Highlights
49% of respondents expect an increase in sales volume

57% expect increased homebuying by Millennials
46% expect increased sales to investors
39% anticipate increased homebuying by renters

32% of respondents expect more houses to sell above the asking price

43% anticipate greater foot traffic
38% expect houses to sell faster