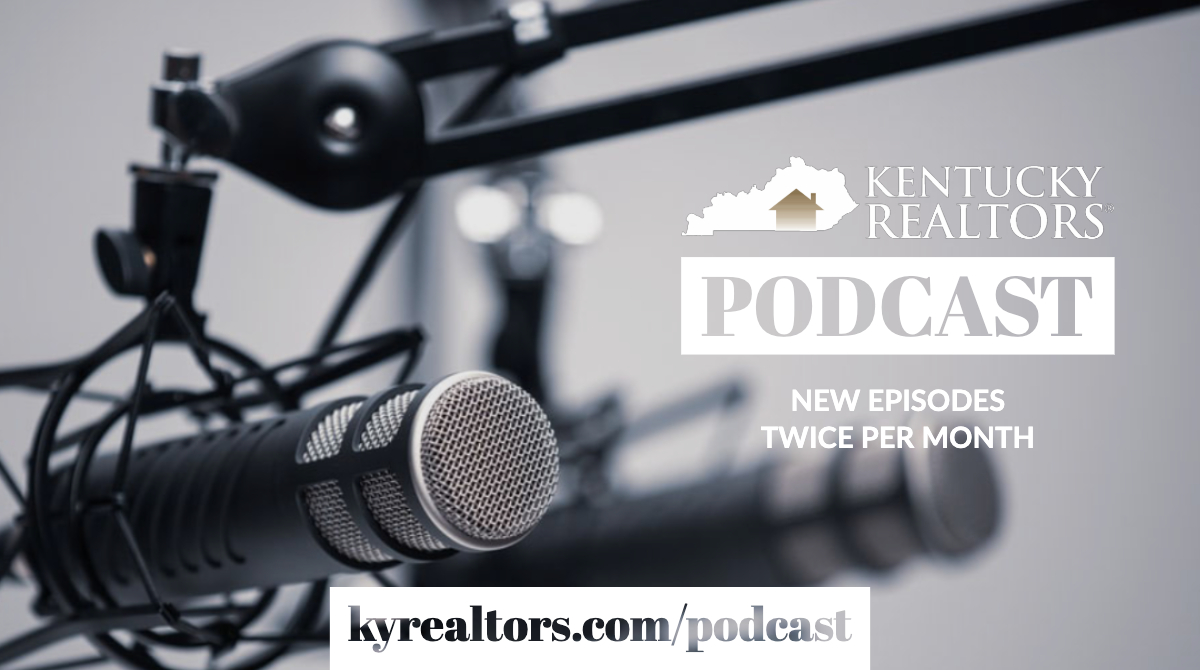 Kentucky REALTORS® members are privileged to continue to help our citizens achieve the American Dream of Homeownership.  That, however, must be done with the utmost care and precaution during these times. KYR has aggregated important guidance that all members should adhere to and provides important resources for your business. You can find information in the expanding sections below:
NAR's Federal Advocacy team has been working closely with Congress and the Administration to ensure the interests of REALTORS®, their families, consumers, and the entire real estate industry are protected in any federal action in response to COVID-19.
On December 21, 2020, Congress passed a COVID-19 relief package, which also included an Omnibus spending bill for Fiscal Year 2021, and some tax extenders. Below is a summary of the major provisions of that bill impacting REALTORS®. Learn more at the NAR website.
MESSAGE FROM PRESIDENT HINCKLEY

KY Realtors®! 

We have finally put 2020 behind us. As we glance back, we can see that when life threw us a curve with the Covid-19 Virus we were able to not only survive, but thrive, and "hit it out of the park" with a record year. We heard the challenges and instead of panicking, we chose to "lift as we climbed."  We assessed the problem, came up with solutions, and we overcame it. We demonstrated that we not only talk about homeownership matters, but we showed the essentialness of the Real Estate Profession and the quality of the REALTOR® Association. We displayed our ability to adapt and overcome obstacles with REALTOR® Pride.


We as a REALTOR® Family have felt the loss of those among us who fell prey to this virus. We have cried and mourned with those families. If anything, this past year taught us to refocus on what is truly important in our lives: our health, our families, our communities, then our business. We, as Realtors® have led from the front with Zoom meetings and Town Halls.

We also had our first ever Virtual State Conference and Virtual Installation. It was a year of many firsts. Now going into 2021, we have seen vaccines not only being developed but delivered and administered in record time! We can now see the light at the end of the tunnel.   

We know the seriousness of the virus and we have worked hard to accommodate our membership. We have made decisions as a team to do what we need to keep our members as safe as we can, and you have our word that we will do so in the future. As we transition back to normal, we are already looking into ways to incorporate hybrid meetings with those in person as well as virtual.  

We continue to search for ways to provide meaningful information to minimize fear, to provide opportunities to maximize benefits to our members, and to find ways to bridge the gaps.

What we have learned is that together, we "R" making a difference!   

CONTRACTS & FORMS

 

KYR Legal Counsel, Jason Vaughn, talks about the escalation clause in contracts (KY); specifically, what they include, when they should be used, and why a seller may not want to accept one.

 

KYR Legal Counsel has developed a Property Viewing Release form. This form serves as an agreement for sellers and any viewers of the property will hold each other harmless for any effects of the COVID-19 virus. You can download the form here.

 

We have also developed a COVID-19 Addendum for real estate contracts that protect buyers and sellers in the event one of the parties becomes ill with COVID-19 and is unable to complete the transaction or due to illness, must back out of the contract. You can download a "fillable" field version at this link.

KYR legal Counsel, Jason Vaughn, has recorded a video discussing the new COVID-19 Residential Sales Contract Addendum.


 

COUNTY CLERKS

 

County Clerks Offices have limited their hours and, in some cases, closed altogether. KYR legal Counsel, Jason Vaughn, has recorded a video outlining what a Clerk office closure means for you in the short and long term.

 

DISEASE PREVENTION AND HEALTH INFORMATION FOR REALTORS®

 

COVID-19 Guidance Site by NAR that is updated regularly
https://www.nar.realtor/coronavirus-a-guide-for-realtors

 

CDC Coronavirus site
https://www.cdc.gov/coronavirus/2019-ncov/index.html

 

COVID-19 Kentucky Gov. Site
kycovid19.ky.gov

 

ESSENTIAL BUSINESS

 

Kentucky Governor Andy Beshear continues to outline and update the list of businesses and entities considered "essential" and permitted to stay "open" during the COVID-19 Pandemic. In nearly every case, these groups are permitted to operate but with very limited or modified procedures. The Governor has specifically cited the Cybersecurity and Infrastructure Security Agency's (CISA) guidance on this. For real estate professionals, these are the activities the CISA considers essential:

Residential and commercial real estate services, including settlement services. 
Staff at government offices who perform a title search, notary, and recording services in support of mortgage and real estate services and transactions. 
Workers responsible for the leasing of residential properties to provide individuals and families with ready access to available housing.  
Workers responsible for handling property management, maintenance, and related service calls who can coordinate the response to emergency "at-home" situations requiring immediate attention, as well as facilitate the reception of deliveries, mail, and other necessary services.  
Workers performing housing construction-related activities to ensure additional units can be made available to combat the nation's existing housing supply shortage. 
Workers supporting the construction of housing, including those supporting government functions related to the building and development process, such as inspections, permitting and plan review services that can be modified to protect the public health, but fundamentally should continue and serve the construction of housing (e.g., allow qualified private third-party inspections in case of government shutdown). 

EVICTIONS

 

Eviction Waiver Information https://govstatus.egov.com/kysafer-compliance-1

 

KREA COVID-19 GUIDANCE

 

New Guidance was released on 11-20-2020. Click here to download.

LISTINGS, SHOWINGS, & CLOSINGS

 

COVID-19 and the Code of Ethics - Article by Bruce Aydt in REALTOR® Magazine

 

PROPERTY LISTINGS

REALTORS® should advise sellers at the outset to use 3-D software to conduct tours and the majority of the property's showings during the Pandemic. 

Sellers may wish to open doors and turn on lights before an agent and prospective buyer arrives. The Protocol for Property Showings should be followed thereafter.

 

OPEN HOUSE GUIDANCE DURING COVID-19

Open Houses are permitted at the present time. However, there are many alternative marketing opportunities and strategies available that will not bring together groups of people into close proximity of each other and should be used if at all possible. REALTORS® can bring great value to their clients by using three-dimensional interactive property scans (e.g. Matterport, Cupix, EyeSpy360 and more) to host virtual tours. The agent may also conduct a "live" tour for prospective buyers where he or she walks alone through the property using Skype or Facebook and uses virtual staging to showcase a property. PLEASE NOTE:  You must have the seller's permission to do a live video or Skype or to take interior photos and send them to a potential buyer.

A video of KYR General Counsel Jason Vaughn outlining the guidelines for conducting open houses is now available. You may follow along and print the guidelines on this PDF form.

 

PROPERTY SHOWINGS PROTOCOL

REALTORS® are to use extreme care when doing an "in-person" showing of property to prospective buyers so as to not be exposed to or unwittingly carry the Coronavirus into the property either through their own contact or that of the prospective buyer.  

REALTORS® must set ground rules at the beginning of a showing and be in complete control throughout the process. These rules must be applied and enforced consistently to all in order to comply with Fair Housing Guidelines. 

Gov. Andy Beshear issued an executive order Thursday, April 2, 2020, expanding the state's travel restrictions in the face of the coronavirus crisis, adding a requirement that people entering Kentucky from out of state must self-quarantine for 14 days. To comply with this order, KYR's position is that no REALTOR®member shall knowingly show property to anyone entering Kentucky from another state unless they have been self-quarantined for 14 days or more and are showing no symptoms of the COVID-19 virus. 

REALTORS® should come to a showing equipped with items to protect themselves, the buyer, and the homeowner from exposure or the transmittal of disease. It is recommended that REALTORS® develop "showing kits" that are equipped with items used to protect everyone from the spread of the disease.  These kits should contain hand and foot protections such as disposable gloves and shoe covers, disinfectant, and hand sanitizer.

REALTORS® should ask potential buyers if they feel sick or if they have recently been sick. If they answer in the affirmative, the showing should not take place. Both REALTOR® and buyer should use hand sanitizer before entering the property. It is recommended that disposable gloves be used by all agents and ONLY that agent is permitted to touch all doors, light switches and other surfaces inside the property.  Prospective buyers are asked NOT to touch any surface inside the property.  All surfaces touched by the REALTOR® or buyer should be cleaned with a sanitizing wipe upon exiting the property (including lockboxes and keys which should be wiped before and after use) and hand sanitizers should be used again.

REALTORS® shall practice and enforce social/physical distancing when showing property.

It is recommended that only decision-makers attend showings and it is advised that young children and the elderly should not be permitted at showings.

It is advised that the REALTOR® and client use separate cars.

 

PROPERTY CLOSINGS

When possible, REALTORS® should separate buyers and sellers into separate rooms as to adhere to social/physical distancing procedures.

Only those necessary and essential to the closing should come to the closing.

Ensure that hand sanitizers are used by all and surfaces are wiped down before and after use.

 

PPE - PERSONAL PROTECTIVE EQUIPMENT

 

 

The NAR Team Store has PPE items available for REALTORS® to purchase. Many of them are branded with the R® logo! Visit http://www.narteamstore.realtor/

 

TurnKeyConcepts (Buckner, KY) has been able to source masks, gloves, booties, and hand sanitizer. You can shop for these at turnkeyconceptsshop.com.

 

Commerce Lexington is also selling a variety of PPE products.

 

B&B Systems (Louisville) has masks available for sale in boxes of 50.  https://bbpromoproducts.com/disposable-face-mask/

 

Casey Jones Distillery (Hopkinsville) is selling 64oz. jugs of LIQUID (not gel) hand sanitizer.

REALTOR® BUSINESS AND FINANCIAL AID INFORMATION

 

CARES Act Provisions for REALTORS® and Their Consumers: https://www.nar.realtor/political-advocacy/coronavirus-aid-relief-and-economic-security-act

 

SBA (Small Business Association) Program Loans [Paycheck Protection Program & Economic Injury Disaster Loan]. Small businesses and sole proprietorships can apply now for forgivable Paycheck Protection Loans through existing Small Business Administration lenders to cover payroll and certain other expenses. The program opens to the self-employed and independent contractors on April 10.

Read NAR'S guidance on the Paycheck Protection Program.

These documents from the Small Business Administration, Department of Labor, and Treasury Department may be useful to you as well:

 

REALTOR® Magazine detailed these programs here: https://magazine.realtor/daily-news/2020/03/31/forgivable-small-business-loans-to-bring-relief

 

Unemployment Information

Coronavirus: Unemployment Assistance CARES Act FAQs: https://www.nar.realtor/political-advocacy/coronavirus-unemployment-assistance-cares-act-faqs

(Kentucky Gov. Site): https://kcc.ky.gov/career/If-you-are-Unemployed/Pages/default.aspx

 

VIRTUAL TOWN HALL MEETINGS

 

KYR has been hosting COVID-19 Virtual Town Hall meetings. The goal of this is to share a lot of valuable information in a short time.

The 1st Virtual Town Hall Meeting: "A new reality for REALTORS in Kentucky."

You can view the meeting recording here.

 

2nd Virtual Town Hall meeting: "CARES Act, KY Unemployment, and tips on applying and getting approved."

You can view the meeting recording here.

 

3rd Virtual Town Hall meeting: "How has the Pandemic Affected Commercial Real Estate in Kentucky?"

You can view the meeting recording here.

 

Click to enlarge

4th Virtual Town Hall meeting: "Taking care of you and your loved ones - Mental and physical wellness."

You can view the meeting recording here.

 

 

5th Virtual Town Hall meeting: "Providing Leadership During Challenging Times."

You can view the meeting recording here.

 

6th Virtual Town Hall meeting: "Working in the Now."

You can view the meeting recording here.

 

7th Virtual Town Hall meeting: "Open House Guidance." 

You can view the meeting recording here.  (You may download the discussed guidelines on this PDF form.)

 

8th Virtual Town Hall meeting: "A Conversation on Race." 

You can view the meeting recording here.

 

9th Virtual Town Hall meeting: "A Conversation with Leigh Brown." 

You can view the meeting recording here.

 

10th Virtual Town Hall meeting: "Handling Multiple Offers." 

You can view the meeting recording here.

Also, see this NAR video called "Window to the law: Handling multiple offers".

 

11th Virtual Town Hall meeting: "The History of Race Discrimination and Real Estate." 

You can view the meeting recording here.

 

12th Virtual Town Hall meeting: "Surviving COVID-19: One REALTOR's Journey".

You can view the meeting recording here.

 

13th Virtual Town Hall meeting: "PROFESSIONALISM, COMPETITION, AND COVID-19".

You can view the meeting recording here.

 

14th Virtual Town Hall meeting: "KYR's YPN Takeover!"

You can view the meeting recording here.

 

15th Virtual Town Hall meeting: "REALTOR® Safety: Are You at Risk?"

You can view the meeting recording here.

 

16th Virtual Town Hall meeting: "Looking Forward!"

You can view the meeting recording here.

 

17th Virtual Town Hall meeting: "A discussion of discriminatory speech and conduct".

You can view the meeting recording here.

 

18th Virtual Town Hall meeting: "Finding Calm in the Storm".

You can view the meeting recording here.

 

19th Virtual Town Hall meeting: "Planning and Goal Setting".

ARCHIVED RECORDINGS

NEW: REALTORS® Unemployment insurance update: What you need to know. (April 27th) This free webinar was hosted by LBAR but open to all  KYR Members. The topic was the new and expanded unemployment assistance options that are now available to qualifying independent contractors as part of the relief response to COVID-19.

Guest speakers included:
-Josh Benton, Secretary of the Kentucky Education and Workforce Cabinet
-Muncie McNamara, Executive Director of the Kentucky Office of Unemployment Insurance.

You can view the recording of the conference at https://www.youtube.com/watch?v=gOCae0zyFA0&feature=youtu.be

 

KYR Moving Forward (April 10th)

KYR hosted an online WebEx seminar on Friday, April 10th. Unfortunately, due to technical issues, a portion of the meeting was not recorded. You can view the recording at this link. All of the questions submitted in the chat section of the meeting were answered in writing by NAR staff and can be downloaded in PDF format here.

 

KYR Broker Tele-summit (April 21st)

KYR hosted a Broker Tele-summit via Zoom. Chief Economist for NAR, Dr. Lawrence Yun, joined a panel of esteemed brokers form KY to discuss the unique challenges that the offices in Kentucky are facing right now.  You can view the recording at this link. 

 

 

ZOOM BACKGROUNDS, TIPS, & SUPPORT

 

KYR uses Zoom as a tool for online-video meetings and conference calls. Here are a few resources to help if you.

Zoom backgrounds for KYR (click an image to enlarge it and then right-click to save it to your device.)

 

More Zoom backgrounds are available from NAR on their campaigns page here.

 

Link to Zoom tutorial videos: HERE

How to join a Zoom meeting: HERE

How to schedule a Zoom meeting: HERE