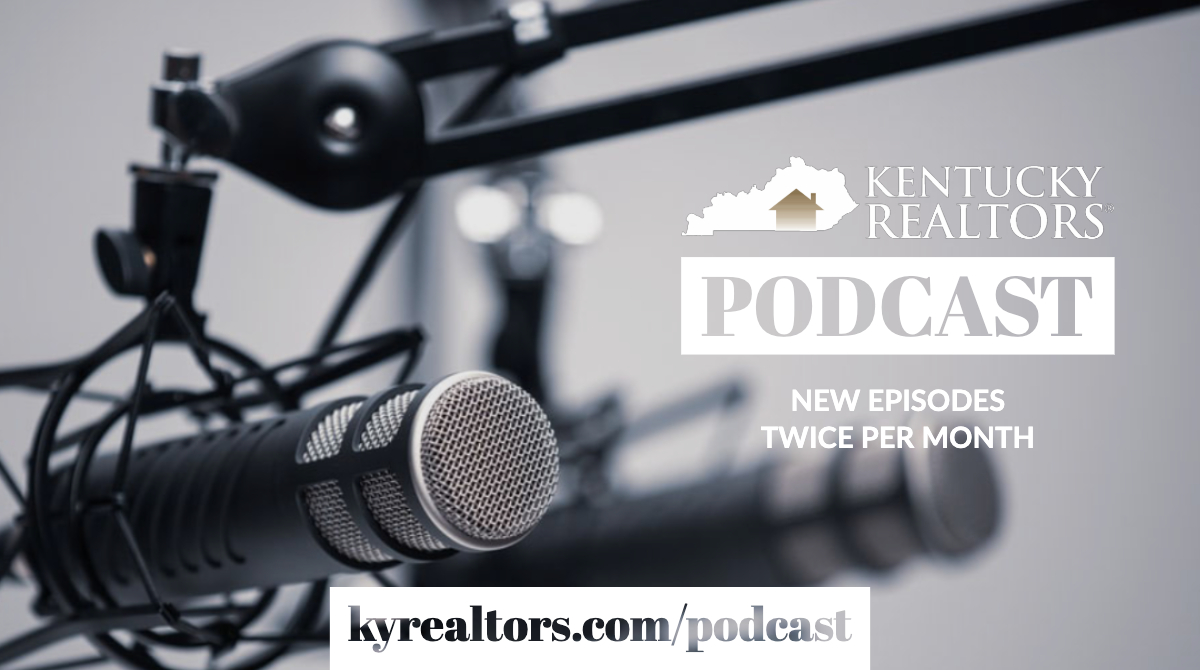 Kentucky REALTORS® members are privileged to continue to help our citizens achieve the American Dream of Homeownership.  That, however, must be done with the utmost care and precaution during these times. KYR has aggregated important guidance that all members should adhere to and provides important resources for your business. You can find information in the expanding sections below:
 REALTOR® RESILIENCY REPORT (updated 5/14) 
This communication from NAR to all Members describes the many ways NAR is working to guide and support REALTORS® and the real estate industry during the coronavirus (COVID-19) pandemic. Every week, you'll find up-to-date, relevant information on how to ensure your health and safety, the virus's impact on the economy and your business, its impact on NAR activities, and what NAR is doing to help. (Click the title above to download.)
We have a responsibility to ourselves and to each other to protect our state and our community. However, Kentucky families and businesses must also prepare to reopen our economy. Healthy at Work is a phased approach to reopening based on criteria set by public health experts and advice from industry experts. Each phase will be rolled out in steps to ensure the Commonwealth's citizens can safely return to work while still protecting the most vulnerable Kentuckians. Learn more by clicking here.
STATEMENT ON ADVERTISING
Kentucky REALTORS® requests that its members refrain from conducting and advertising traditional Open Houses. The Association requests that all media outlets refuse to accept any advertisement submitted by REALTORS® to conduct Open Houses in Kentucky.
The Center for REALTOR® Development is participating in NAR's RTRN program by offering 30% off ALL online courses, now through May 31, 2020. Additionally, select online courses are also FREE –look for the Right Tools Right Now icon next to the featured online course – now through May 31, 2020. Click here for more information.
MESSAGE FROM PRESIDENT SANDERS

Hello Members,

I want to continue to encourage REALTORS® to keep walking and talking like the leaders that you "R". Unfortunately COVID-19 continues to be the dominating topic and concern in our lives. The good news is that your state association remains financially stable and the staff is to be commended for the job they are doing. Because of great leadership and smart investments KYR is extremely solid. Members in both large and small markets are reporting vibrant business. We know, realistically, it will taper off some as time moves on. However, there are buyers ready to purchase and sellers continue putting their homes on the market!

When I chose my focus for 2020 to be "lifting as we climb" I had no idea how important it would be for our REALTOR® family. We are in the midst of a devastating economic crisis. You are such a vital part of your community and our communities need our leadership. Your volunteerism and donations are vital. Our communities are begging and need us to help lift in so many ways. Why should we do it? That is who we "R."

Some of the comments I make here have been repeated by the Governor, President, our KYR leadership and staff. We must make sure our entire membership gets the message. My friends, in these times, they bear repeating. Gov. Beshear issued his executive order allowing REALTORS® to continue to operate. Understanding the value and impact the housing industry has on Kentucky's and the country's economy. However, the Governor had to ultimately measure our ability to work against saving and protecting the lives of citizens (including our families and friends) in our great Commonwealth. The blessing to keep operating came with guidelines we must start and continue to follow. Most of you follow those requirements that include using the technology available to operate AT ALL TIMES possible to prevent human interaction. Brokers and REALTOR® friends this is not a choice- it is part of the mandate that allows us to continue in business. 

Your leadership and staff at Kentucky REALTORS® are focused on helping keep real estate going. We are working with officials across the state, NAR, and our federal policymakers. You too must help. So what does it mean? Open houses and broker open houses have been stopped by most companies. Many have shifted to doing "virtual open houses." It is simply not safe for you, your sellers, and buyers when several people are in a home at the same time. If you are still doing them you are working outside the governor's orders. It has been reported some REALTORS® are ignoring the social distancing rules and best practices standards that we MUST follow. Please do your part to monitor yourself and others.

Congressman and House Budget Chair John Yarmuth spoke to the leadership team, board of directors, and association executives to go over the recently passed 2 trillion dollar CARES Act. You can hear the call in our recent podcast episode here. Congressman Yarmuth suggested that his website will be updated as more information becomes available. We previously held a Zoom meeting with Drew Myers, our NAR government affairs contact, for an update from NAR on the CARES Act. NAR's website is also being updated daily to ensure you know how the Act will benefit REALTORS® directly. Our Government Affairs Director Richard Wilson did a great job pulling those together.

I recently established a Presidential Appointed Group (PAG) with members from across the state to help pull together REALTOR® best practice guidelines. The information will be sent to associations and members. Most of you have similar guidelines. However, we are committed to making the information available to each member within the next few days. There will be future Zoom meetings and videos to keep you up to date and help you navigate our quickly changing business.

Thank you for your hard work and for protecting our great country and industry! 

 

 

 

 

We will get through this together. #liftingasweclimb

 

CONTRACTS & FORMS

 

KYR Legal Counsel has just developed a Property Viewing Release form. This form serves as an agreement for sellers and any viewers of the property will hold each other harmless for any effects of the COVID-19 virus. You can download the form here.

 

We have also developed a COVID-19 Addendum for real estate contracts that protect buyers and sellers in the event one of the parties becomes ill with COVID-19 and is unable to complete the transaction or due to illness, must back out of the contract. You can download a "fillable" field version at this link.

KYR legal Counsel, Jason Vaughn, has recorded a video discussing the new COVID-19 Residential Sales Contract Addendum.


 

COUNTY CLERKS

 

County Clerks Offices have limited their hours and, in some cases, closed altogether. Here is a document that shows a breakdown of how each County Clerk office in the state is conducting business (updated 4/22/20). As you can see, many are going to mail/drop-offs.

KYR legal Counsel, Jason Vaughn, has recorded a video outlining what a Clerk office closure means for you in the short and long term.

 

DISEASE PREVENTION AND HEALTH INFORMATION FOR REALTORS®

 

COVID-19 Guidance Site by NAR that is updated regularly
https://www.nar.realtor/coronavirus-a-guide-for-realtors

 

CDC Coronavirus site
https://www.cdc.gov/coronavirus/2019-ncov/index.html

 

COVID-19 Kentucky Gov. Site
kycovid19.ky.gov

 

ESSENTIAL BUSINESS

 

Kentucky Governor Andy Beshear continues to outline and update the list of businesses and entities considered "essential" and permitted to stay "open" during the COVID-19 Pandemic. In nearly every case, these groups are permitted to operate but with very limited or modified procedures. The Governor has specifically cited the Cybersecurity and Infrastructure Security Agency's (CISA) guidance on this. For real estate professionals, these are the activities the CISA considers essential:

Residential and commercial real estate services, including settlement services. 
Staff at government offices who perform a title search, notary, and recording services in support of mortgage and real estate services and transactions. 
Workers responsible for the leasing of residential properties to provide individuals and families with ready access to available housing.  
Workers responsible for handling property management, maintenance, and related service calls who can coordinate the response to emergency "at-home" situations requiring immediate attention, as well as facilitate the reception of deliveries, mail, and other necessary services.  
Workers performing housing construction-related activities to ensure additional units can be made available to combat the nation's existing housing supply shortage. 
Workers supporting the construction of housing, including those supporting government functions related to the building and development process, such as inspections, permitting and plan review services that can be modified to protect the public health, but fundamentally should continue and serve the construction of housing (e.g., allow qualified private third-party inspections in case of government shutdown). 

EVICTIONS

 

Eviction Waiver Information https://govstatus.egov.com/kysafer-compliance-1

 

LISTINGS, SHOWINGS, & CLOSINGS

 

COVID-19 and the Code of Ethics - Article by Bruce Aydt in REALTOR® Magazine

 

PROPERTY LISTINGS

REALTORS® should advise sellers at the outset to use 3-D software to conduct tours and the majority of the property's showings during the Pandemic. 

Sellers may wish to open doors and turn on lights before an agent and prospective buyer arrives. The Protocol for Property Showings should be followed thereafter.

 

OPEN HOUSE GUIDANCE DURING COVID-19

Open Houses in the traditional sense should not be held at the present time. There are many alternative marketing opportunities and strategies available that will not bring together groups of people into close proximity of each other and should be used almost exclusively at the present time.  REALTORS® can bring great value to their clients by using three-dimensional interactive property scans (e.g. Matterport, Cupix, EyeSpy360 and more) to host virtual tours. The agent may also conduct a "live" tour for prospective buyers where he or she walks alone through the property using Skype or Facebook and uses virtual staging to showcase a property. PLEASE NOTE:  You must have the seller's permission to do a live video or Skype or to take interior photos and send them to a potential buyer.

In cases where a client is insistent upon having the REALTOR® hold an Open House, you should respectfully decline, since it would put your own health, or that of potential buyers or sellers at risk. You may also state that to hold an Open House would be to contradict the guidance being issued by the Commonwealth of Kentucky at present.

 

PROPERTY SHOWINGS PROTOCOL

REALTORS® are to use extreme care when doing an "in-person" showing of property to prospective buyers so as to not be exposed to or unwittingly carry the Coronavirus into the property either through their own contact or that of the prospective buyer.  

REALTORS® must set ground rules at the beginning of a showing and be in complete control throughout the process. These rules must be applied and enforced consistently to all in order to comply with Fair Housing Guidelines. 

Gov. Andy Beshear issued an executive order Thursday, April 2, 2020, expanding the state's travel restrictions in the face of the coronavirus crisis, adding a requirement that people entering Kentucky from out of state must self-quarantine for 14 days. To comply with this order, KYR's position is that no REALTOR®member shall knowingly show property to anyone entering Kentucky from another state unless they have been self-quarantined for 14 days or more and are showing no symptoms of the COVID-19 virus. 

REALTORS® should come to a showing equipped with items to protect themselves, the buyer, and the homeowner from exposure or the transmittal of disease. It is recommended that REALTORS® develop "showing kits" that are equipped with items used to protect everyone from the spread of the disease.  These kits should contain hand and foot protections such as disposable gloves and shoe covers, disinfectant, and hand sanitizer.

REALTORS® should ask potential buyers if they feel sick or if they have recently been sick. If they answer in the affirmative, the showing should not take place. Both REALTOR® and buyer should use hand sanitizer before entering the property. It is recommended that disposable gloves be used by all agents and ONLY that agent is permitted to touch all doors, light switches and other surfaces inside the property.  Prospective buyers are asked NOT to touch any surface inside the property.  All surfaces touched by the REALTOR® or buyer should be cleaned with a sanitizing wipe upon exiting the property (including lockboxes and keys which should be wiped before and after use) and hand sanitizers should be used again.

REALTORS® shall practice and enforce social/physical distancing when showing property.

It is recommended that only decision-makers attend showings and it is advised that young children and the elderly should not be permitted at showings.

It is advised that the REALTOR® and client use separate cars.

 

PROPERTY CLOSINGS

When possible, REALTORS® should separate buyers and sellers into separate rooms as to adhere to social/physical distancing procedures.

Only those necessary and essential to the closing should come to the closing.

Ensure that hand sanitizers are used by all and surfaces are wiped down before and after use.

 

STATEMENT ON ADVERTISING

Kentucky REALTORS® requests that its members refrain from conducting and advertising traditional Open Houses.  The Association requests that all media outlets refuse to accept any advertisement submitted by REALTORS® to conduct Open Houses in Kentucky.

 

OFFICE PROTOCOL

 

In order to maintain a safe working environment for brokers, real estate associates and staff, as well as to protect clients, it is important to have in place a strict office protocol during the Pandemic. 

Real estate offices should be closed to outside traffic.  Limits should be placed on the number of people affiliated with the brokerage permitted in the office at one time.  It is recommended that no more than one agent and one additional staff member should be in the office at one time and a rotating schedule should be set up for the entire staff.  

When it is time for the next person to use the office, they should call the office manager or the main office number and determine how many will be in the office and if it is clear to use the office by the time you arrive. 

When using the office, maintain physical/social distance of a MINIMUM of 6 feet from others.

No clients, family members, friends or others are allowed in the office. When it is time to meet a client and they are coming to the office to meet you, have them remain in their car for signatures and paperwork.

To the fullest extent possible, use the electronic transfer of information and documents.

No use of conference or meeting rooms will be permitted.

If using office equipment, clean with antiseptic wipes after usage.

If you are sick or have symptoms of a cold, flu, etc., you may not come to the office.  If someone from the office or a person you have come into contact with has been tested positively for the virus, you must notify the management immediately.   All others who may have come into contact with these individuals should be notified immediately.  It is important to keep the names of the infected parties confidential.

Closing checks will be paid by appointment. 

PPE - PERSONAL PROTECTIVE EQUIPMENT

 

The NAR Team Store has PPE items available for REALTORS® to purchase. Many of them are branded with the R® logo! Visit http://www.narteamstore.realtor/

 

TurnKeyConcepts (Buckner, KY) has been able to source masks, gloves, booties, and hand sanitizer. You can shop for these at turnkeyconceptsshop.com.

 

B&B Systems (Louisville) has masks available for sale in boxes of 50.  https://bbpromoproducts.com/disposable-face-mask/

 

Casey Jones Distillery (Hopkinsville) is selling 64oz. jugs of LIQUID (not gel) hand sanitizer.

 

REALTOR® BUSINESS AND FINANCIAL AID INFORMATION

 

CARES Act Provisions for REALTORS® and Their Consumers: https://www.nar.realtor/political-advocacy/coronavirus-aid-relief-and-economic-security-act

 

SBA (Small Business Association) Program Loans [Paycheck Protection Program & Economic Injury Disaster Loan]. Small businesses and sole proprietorships can apply now for forgivable Paycheck Protection Loans through existing Small Business Administration lenders to cover payroll and certain other expenses. The program opens to the self-employed and independent contractors on April 10.

Read NAR'S guidance on the Paycheck Protection Program.

These documents from the Small Business Administration, Department of Labor, and Treasury Department may be useful to you as well:

 

REALTOR® Magazine detailed these programs here: https://magazine.realtor/daily-news/2020/03/31/forgivable-small-business-loans-to-bring-relief

 

Unemployment Information

Coronavirus: Unemployment Assistance CARES Act FAQs: https://www.nar.realtor/political-advocacy/coronavirus-unemployment-assistance-cares-act-faqs

(Kentucky Gov. Site): https://kcc.ky.gov/career/If-you-are-Unemployed/Pages/default.aspx

 

VIRTUAL TOWN HALL MEETINGS

 

KYR has been hosting COVID-19 Virtual Town Hall meetings. The goal of this is to share a lot of valuable information in a short time.

The 1st Virtual Town Hall Meeting: "A new reality for REALTORS in Kentucky."

You can view the meeting recording here.

 

2nd Virtual Town Hall meeting: "CARES Act, KY Unemployment, and tips on applying and getting approved."

You can view the meeting recording here.

 

3rd Virtual Town Hall meeting: "How has the Pandemic Affected Commercial Real Estate in Kentucky?"

You can view the meeting recording here.

 

Click to enlarge

4th Virtual Town Hall meeting: "Taking care of you and your loved ones - Mental and physical wellness."

You can view the meeting recording here.

 

 

5th Virtual Town Hall meeting: "Providing Leadership During Challenging Times."

You can view the meeting recording here.

 

6th Virtual Town Hall meeting: "Working in the Now."

ARCHIVED RECORDINGS

NEW: REALTORS® Unemployment insurance update: What you need to know. (April 27th) This free webinar was hosted by LBAR but open to all  KYR Members. The topic was the new and expanded unemployment assistance options that are now available to qualifying independent contractors as part of the relief response to COVID-19.

Guest speakers included:
-Josh Benton, Secretary of the Kentucky Education and Workforce Cabinet
-Muncie McNamara, Executive Director of the Kentucky Office of Unemployment Insurance.

You can view the recording of the conference at https://www.youtube.com/watch?v=gOCae0zyFA0&feature=youtu.be

 

KYR Moving Forward (April 10th)

KYR hosted an online WebEx seminar on Friday, April 10th. Unfortunately, due to technical issues, a portion of the meeting was not recorded. You can view the recording at this link. All of the questions submitted in the chat section of the meeting were answered in writing by NAR staff and can be downloaded in PDF format here.

 

KYR Broker Tele-summit (April 21st)

KYR hosted a Broker Tele-summit via Zoom. Chief Economist for NAR, Dr. Lawrence Yun, joined a panel of esteemed brokers form KY to discuss the unique challenges that the offices in Kentucky are facing right now.  You can view the recording at this link. 

 

 

ZOOM CONFERENCE TIPS/SUPPORT