Leadership Directory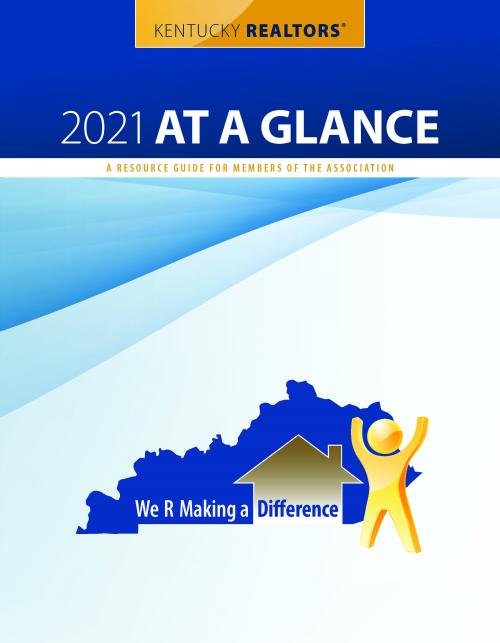 Background
Kentucky REALTORS® is one of the largest and most influential associations in Kentucky. Founded in 1922, Kentucky REALTORS® represents more than 12,000 REALTORS® who are involved in all aspects of real estate, including residential and commercial real estate brokers, sales agents, developers, builders, property managers, office managers, appraisers, and auctioneers.
Kentucky REALTORS® serves as a conduit to growth, knowledge, and professionalism for its members and the real estate industry as a whole. The Association is committed to delivering its members the very finest tools and information to help them succeed - and to meet the needs of today's property buying and selling consumers.
As "The Voice for Real Estate™ in Kentucky," a primary value of Kentucky REALTORS® is to serve and represent its members in regulatory and legislative matters; to keep the REALTOR® central to the real estate transaction; to promote member integrity, competency, and responsible citizenship; and to advocate and protect private property rights and equal housing opportunity.
All Kentucky REALTORS® members belong to one or more of the 20 local REALTOR® associations statewide and the National Association of REALTORS®. As members of organized real estate, REALTORS® subscribe to a strict Code of Ethics, which ensures the highest level of professionalism.
BOTTOM LINE:
Kentucky REALTORS® helps protect a marketplace for consumers to buy, own, and transfer real estate - a system that is emulated globally and one that REALTORS® dedicate themselves to protect.
History of the Kentucky Association of REALTORS®
A group of individuals from throughout Kentucky joined together for the purpose of exchanging property information. They discussed properties for sale and shared ideas about real estate. It is from this informal idea exchange that began the statewide organization created to unite those engaged in the real estate business in the community and to promote good fellowship and fair dealings among its members and clients. In 1923, the organization received its original charter from NAR, known as the Kentucky Association of REALTORS® for the purpose of observing and enforcing the Code of Ethics of NAR. Kentucky REALTORS® first President was Barney J. Treacy of Lexington. Today, the more than 10,200 members of Kentucky REALTORS®, the "Voice for Real Estate™" in Kentucky, work to preserve and enhance the rights and privileges of the owners of private property. The Association also exists to support and enhance the ability of local Board members to succeed in their business in an ethical and competent manner. Kentucky REALTORS® is located at 2708 Old Rosebud Road, Suite 200, Lexington, KY 40509, (800) 264-2185, or e-mail, kyrealtors@kyrealtors.com.
Since its inception in 1922, Kentucky REALTORS® has worked successfully to advance homeownership, real estate investment, private property rights and the free enterprise system in the halls of Frankfort - the state Capital - and with public officials from local and county agencies throughout Kentucky.
Today, Kentucky REALTORS® is widely recognized as one of the state's strongest, most effective lobbying organizations, supported by the National Association of REALTORS®, the largest trade association in the country with more than 1 million members with 54 State Associations (including Guam, Puerto Rico, and the Virgin Islands) and more than 1,500 local Associations nationwide.
An important aspect of the many successes earned by Kentucky REALTORS® over the years is its many volunteers who have contributed time and energy to the state organization. To list all the names over the years would create volumes. However, Kentucky REALTORS® is proud to recognize a distinguished group of volunteers, our Past Presidents, who have dedicated at least a year from their real estate practice to serve as the chief officer of our organization, and our REALTOR®-of-the-Year honorees, who have made significant contributions to their careers, their industry, and the community-at-large. Many times these individuals serve on a number of committees as members and chairmen.
History of the National Association of REALTORS®
The founding of the REALTOR® organization must first begin with a brief history of the "National Association of Real Estate Exchanges," now known as the National Association of REALTORS®. On May 12, 1908, 120 men representing 19 boards in 13 states and one state association (California) met in Chicago to "unite the real estate men of America" for the purpose of effectively exerting a combined influence upon matters affecting real estate interests. Making use of the "Golden Rule" as its theme, the REALTORS® adopted a strict Code of Ethics. The Code was first adopted as "Rules of Conduct" to be recommended to real estate boards for voluntary adoption. Compliance with the Code was made a condition of membership in the National Association in 1924, and has remained so to date. The national association was the second trade or business group in the United States to follow examples of the professions of medicine, law, and engineering in formulating a Code of Ethics for its members. In 1916, the term REALTOR® was adopted to identify real estate agents who are members of the National Association of REALTORS® and subscribe to its strict Code of Ethics.
In 1972, NAR's present "®" logo was adopted. With over 400,000 sales associates in 1972, NAR became the largest trade association in the country. Throughout NAR's history, it has been working for America's property owners, exerting pressure on the government for better housing standards, improved home financing, the prevention of real estate fraud, the reduction of deficit spending, community revitalization, protecting private property rights and fair taxation.
Today, NAR is more than 1.4 million members strong and is recognized as the largest trade association in the country. Read more about NAR's Green Building in Washington, D.C.
---
Staff Directory
---
Kentucky REALTORS®
2708 Old Rosebud Road, Suite 200
Lexington, KY  40509
Toll-free: (800) 264-2185
Phone: (859) 263-7377
Fax: (859) 263-7565
www.kyrealtors.com
---